NPO International Rescue System Institute
OUTLINE
International Rescue System Institute (IRS) is an industry, government, academia and civilian research organization striving to advance and spread cutting-edge technologies to cope with disasters.
Through the cooperation of various organizations and human resources, IRS aims to contribute to building a safe society in which people can live without anxiety.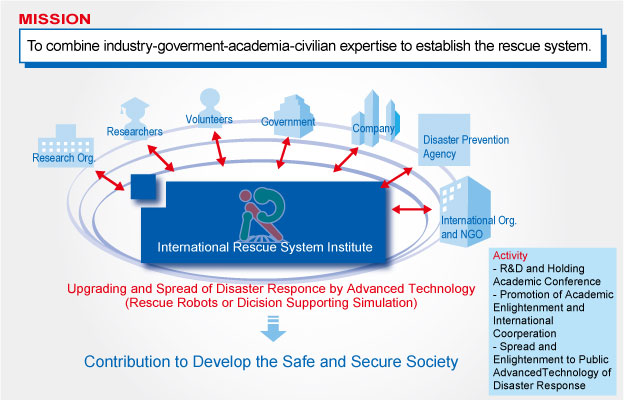 FOUNDATION
IRS was authorized as a nonprofit organization by the Cabinet Office on 18 April 2002.
DIRECTORS
PRESIDENT
Satoshi TADOKORO (Tohoku Univ.)
VICE PRESIDENT
Fumitoshi MATSUNO (Osaka Institute of Technology)
CHAIRMAN 
Hiroaki KITANO (Sony CSL/ERATO Kitano Symbiotic System Project) 
DIRECTOR
Kobe Lab.LEADER
Shigeru KOBAYASHI (Kobe City College of Technology.) 
DIRECTOR
GENERAL MANAGER OF SOLUTION DIV.
Shu ISHIGURO
DIRECTOR
Koichi OSUKA (Osaka Univ.)
DIRECTOR 
Toshi TAKAMORI (Emeritus of Kobe Univ.) 
DIRECTOR
Ikuo TAKEUCHI (Emeritus of Tokyo Univ.)
DIRECTOR
Shigeo HIROSE ( Emeritus of Tokyo Institute of Technology Univ.)
DIRECTOR
Toshihiko KUMAMOTO (NTT WEST Senior Executive Vice Presidents)
DIRECTOR
Kizo HISAMOTO (The Mayor of Kobe)
DIRECTOR
Yasuyoshi YOKOKOHJI (Kobe Univ.)
DIRECTOR
Tetsuya KIMURA (Nagaoka Univ.of Technology)
DIRECTOR
Tomoharu DOI (Osaka Prefecture University College of Technology.)
CHIEF BUSINESS OFFICER 
Mika MURATA 
Articles of Incorporation, Company Regulation
Articles of Incorporation (July 19, 2012 revision) (J)
Company Regulation (April 1, 2015 revision) (J)
Guidelines for Management and Audit of Public Research Expenses
Basic Compliance Rules (J)
Rules based on Guidelines for Management and Audit of Public Research Expenses at Research Institutions (April 1, 2015 revision) (J)
Basic Policies for Preventing Misuse of Competitive Research Funds at Research Institutions ( in revision)
About handling of personal information
Privacy Policy
Regulation on handling of personal information (J)
Regulation on protecting of personal information (J)
ACCESS
IRS Kobe Laboratory
Futaba Gakusha(Local Human Resources Support Center)1F, 7-1-18 Futaba-cho, Nagata-ku, Kobe-shi 653-0042
TEL:+81-78-641-2840 / FAX:+81-78-641-2841
From JR/Subway Shin-Nagata Stn. : 10 Min. Walk
From Subway Komagabayashi Stn. : 6 Min. Walk